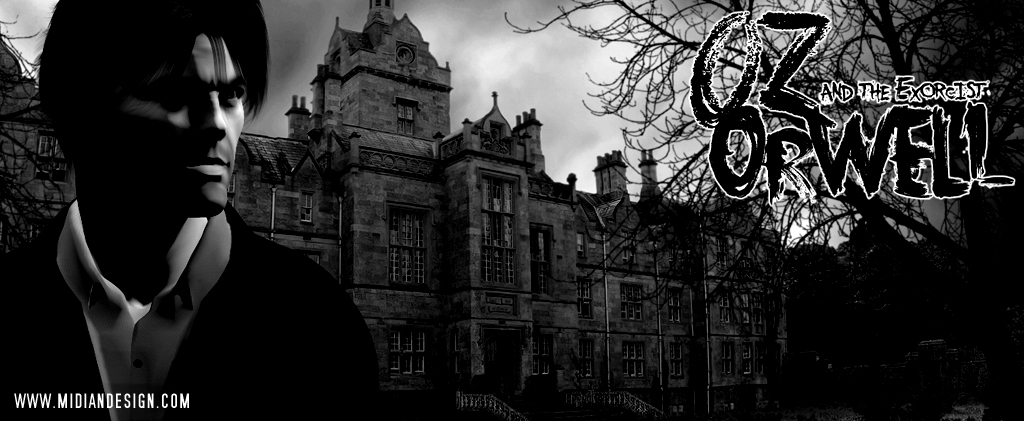 Oz Orwell and the Exorcist
A downloadable game for Windows
Languages: English / Italian
Age: 14+
Resolution: 1024x768 (stretchable)
It's been three years since his misadventures at Angst Mansion. Oz Orwell, owner of the website Ghosts & Mansions, is desperate.
His work consists of visiting places presumed to be haunted with his video camera and documenting apparitions or suspicious noises. To tell you the truth, nothing has ever happened during his on-site investigations (unless we include Angst Mansion, but nothing was documented on that occasion), and Oz has always had to fabricate his videos with fake audio and cheap-looking computer graphics. We said Oz is desperate; in fact, his website is no longer a success. It's got to the point where no one trusts his productions and the greatest horror of all is about to hit him: closing down Ghosts & Mansions and getting a real job. A real job...
That's the mother of all fears for Oz, apart from ghosts! Before giving in, though, he plans to play one last card. Some time ago, another character has entered the limelight and attracted even more of the media's attention than he did; someone known only as the Exorcist. This character has acquired enormous wealth thanks to donations collected in various ways: at lectures, demon exorcism masses, ghosts expelled from private residences and other dubious activities linked to the world of the paranormal.
Now is a good time to point out that the Exorcist has nothing to do with the Church. He is not a priest, and neither is he a believer or a church-goer. He lives in an abandoned, crumbling building, a former mental asylum in the English countryside, which, it is said, is home to ghosts, souls who cannot abandon the limbo in which they find themselves and who live with this mysterious figure. Essentially, it's a carnival of horror clichés: an exorcist, an abandoned mental asylum, ghosts for company and a self-styled paranormal investigator looking for a scoop.

Oz's plan is simple: he has got hold of the Exorcist by phone and has suggested making a documentary in order to boost his credibility, a documentary which will put all the merits of his work on display, an interview intended to emphasise his credibility and trustworthiness (something that none of the media have ever wanted go near), and footage of the ghosts that live in the building. By doing this, the Exorcist will benefit from the documentary, Oz will finally have some real videos to offer on his website, and... he won't have to look for a real job! Oz thought it would be hard work to convince the Exorcist (given that Ghosts & Mansions' reputation was hardly a foot in the door), but everything was extremely simple.
The man turned out to be available and free at the weekend; there was just enough time to book a flight, pack his bags and share the news on his website and social media:
"Hey, people! Look out for for a bombshell of a story: I'm going to meet the Exorcist! Get ready for a long interview, video clips of ghosts and who knows what else! Keep an eye on Ghosts & Mansions... Regards, OzO!"



NOTE: The Apotheosis Project is one of the last game produced by Midian Design, available on Steam ( http://store.steampowered.com/app/364350 ) with a voice over made by Screen7. In the game listed above there's NO VOICE OVER.
Download
Click download now to get access to the following files:
Oz Orwell and the Exorcist.zip
426 MB