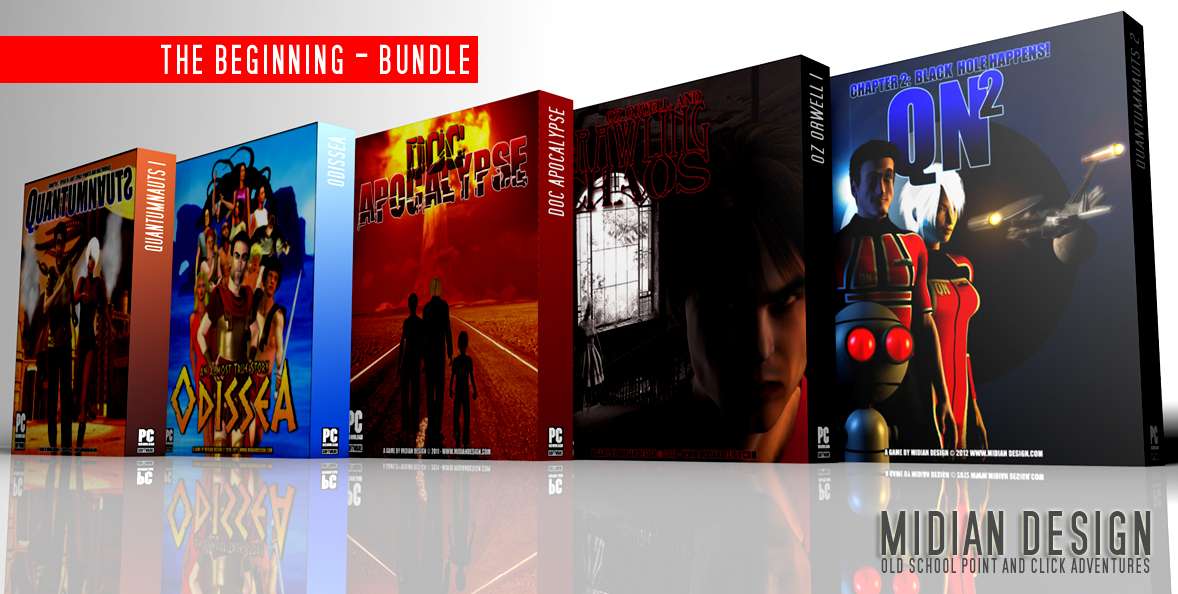 Midian Design - The Beginning (Bundle)
A downloadable game for Windows
Languages: English / Italian (all games)
Age: 12+
Resolution: 1024x768 (stretchable)

QUANTUMNAUTS 1 (2009)
The Quantumnaut's task was simple: teleport his captain back on board the spaceship within the required time for this mission: 3 hours on planet Earth in 2010, 1st Universe. But by getting a coordinate wrong, the Quantumnaut accidentally teleported the wrong person: an unlucky person called Bob. Before being teleported, he had just left his favorite pub where he had been playing all night with his band, ending up pretty drunk as usual. After being teleported, Bob thought that everything he was witnessing was just a drunken dream. But it seemed to be as real as the immense shadow that was approaching the spaceship he found himself on at that very moment: space pirates!

ODISSEA (2010)
Who has not heard of Homer's 'Odyssey'? "Odissea - An Almost True Story" is an adventure that "almost" recounts the deeds of Ulysses, taking him to legendary places, such as the cave of the Cyclops, Calypso's island, the Sirens' tavern... a long journey in search of his homeland, Ithaca, where his beloved Penelope has been awaiting his return for many years. Troy has fallen by his ingenuity, but mocking a god is unwise (and the euphoria of the victory is no excuse): Ulysses will pay dearly for this error. There will be many tests that he must undergo in order to appease Poseidon, but fortunately not all of the gods want to see him suffer.Indeed, Athena is on his side, and, thanks to her advice, our hero will once again be able to see the coasts of Ithaca, where other troubles await him... Twenty years is a long time, and the Proci have been courting Penelope with a view to marriage in order to rob Ulysses of his throne and his island dominion.Who among the pretenders will successfully draw back the King's magic bow and demonstrate his supremacy in the archery contest for the Queen's hand? One of the princes? Ulysses' son, Telemachus? Or Ulysses himself, who has returned just in time thanks to his tenacity (of course, he could have returned earlier - twenty years is a long time...)?

DOC APOCALYPSE (2010)
1953: The last experiment of Dr. Lewis P. Higgins has gone wrong. Something awful had crossed over through a portal, and the army had responded with the only resource deemed appropriate, a hail of nuclear bombs. There's a single hope: Lewis has to reach the time machine and warn himself, eight months earlier, to prevent the Apocalypse... NOTE: This is the old version, the new one (deluxe edition by Screen 7) available on steam, isn't related to this game: http://store.steampowered.com/app/509920/Doc_Apocalypse/


OZ ORWELL 1 (2011) (OZ ORWELL AND THE EXORCIST PREQUEL)
Hi, my name is Oz Orwell and I'm the founder, director, cameraman and ghost-investigator of "Ghosts & Mansions". Yes, the very internet portal where every week you can see a new ghost case. Sure, I have to do everything myself, but I've never felt the need for staff. Many people think I'm a fraud, that the presences in my film clips are computer graphics. Well, that's right. I've visited 35 locations in Europe and 12 in America presumed to be haunted, and I've seen and heard absolutely nothing... But things were about to change. Computer graphics wouldn't be needed for "Angst Mansion". And no one would ever see the new episode...
>>> OZ ORWELL AND THE EXORCIST (2016) IS AVAILABLE HERE: https://midiandesign.itch.io/oz-orwell-and-the-exorcist <<<<

QUANTUMNAUTS 2 (2012)
Three years have passed since Bob Marshall and Neena joined the Quantumnaut Fleet, the controllers of the space-time paradoxes of the Multiverse. Several months earlier, Neena had become Bob's wife, but Colonel Fen'Herh had not stopped pestering her with his insistent advances. What better way to get rid of Bob than to send him on a mission with no possibility of return, to the edges of the "Immense Black", the largest supermassive black hole ever discovered?Unbelievably, Bob found himself reliving the same situation from three years before. This time it wasn't the fault of Space Pirates, but the total lack of understanding on his part of things such as "event horizons" and "singularities". The Quantumship managed to escape the grasp of the "Immense Black" just in time, but the reactors, now damaged, wouldn't allow a "jump" towards the Orbital Station.The only hope of salvation was a small planet, the first one that could be reached from the place the accident had occurred to try to land gently on its surface, and to hope that there was a population there to interact with. Perhaps a peaceful one...

NOTE: The Apotheosis Project is one of the last game produced by Midian Design, available on Steam ( http://store.steampowered.com/app/364350 ) with a voice over made by Screen7. In these games listed above there's NO VOICE OVER.
Download
Click download now to get access to the following files:
doc_apocalypse.rar
312 MB